[eBook] Free – Mage Errant: Publisher's Pack, Book 1-2 – John Bierce – Audio Book $3.99 @ Amazon AU & US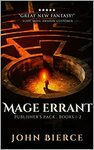 Mage Errant follows the adventures of Hugh of Emblin, a young mage who would, if he had the choice, live an utterly boring, forgettable life.
Unfortunately for him, he doesn't have that choice, and instead gets caught up in the political machinations of archmages, giant monsters, and, uh, giant monsters who are also archmages.
Features a skill-based magic progression system (progression is almost, though not entirely, about your skill with magic), a support caster MC, lots of teenage angst, and more kaiju than you can shake a stick at. (Though, uh, I don't recommend shaking sticks at kaiju.)
---
Seems like im on a roll today for finding free ebooks.
I enjoyed this book and it is very similar to Cradle/Unsouled in its tone/writing.
Suitable for teenagers.
If you enjoyed Cradle/Unsouled then you will most likely enjoy this and hey Free is Free!
First book ended pretty well in my opinion there is 3 other books as well.
I gave this book a 4/5 which I consider recommended read. Again if you enjoyed Cradle/Progressive fantasy you will like this.
Past post: https://www.ozbargain.com.au/node/558804