[eBook] Free: "Chinese Phrase Book: over 1000 Essential Mandarin Phrases" $0 @ Amazon AU, US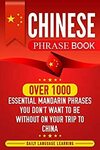 Many Chinese language textbooks are intended mainly for people who study Chinese in formal classes and are based on assumptions that are appropriate primarily for such learners.

The words and phrases such textbooks introduce in early lessons are often those that help students function in a classroom setting. Such textbooks also assume that the learners' need to learn to read and write Chinese is as pressing as their need to speak it, so they introduce oral and written skills at the same rate.